SolarSense
2014 SolarSense Funding
(Solar Electric and Solar Thermal Water Heating)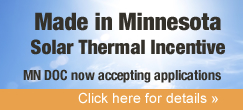 Note: Once the 2014 SolarSense funds have been fully committed* for projects, the program will continue to review projects to build a $50,000 reserve pool. In the event that previously approved projects drop out and funds are returned for reallocation, projects from the reserve pool will receive SolarSense funding in the order that they received an approved Minnesota Power interconnection application.
* Funds committed are funds that are reserved for solar projects that have completed the requirements, which includes Minnesota Power's interconnection approvals.
** Applications received and in process that have not been reserved.
Minnesota Power's SolarSense rebate program, including both Solar Electric and Solar Thermal Water Heating options, are available for your home, business, or community organization.
We realize there are benefits of solar energy beyond energy savings—environmental, societal, and personal—but we encourage you to look to energy conservation first.
In helping you get the most out of your energy dollars from a cost-saving, comfort, performance, and value perspective, we recommend building a solar option into an overall action plan to achieve your energy goals. The Pyramid of Conservation is a valuable tool to help you determine how you use energy and what you can do to get the most out of it. This tool will help you make the "right choice" in reducing energy waste and optimizing energy efficiency.