New Electric Rates
Effective December 1, 2018
---
Rate changes
On November 2, 2016, Minnesota Power filed an application with the Minnesota Public Utilities Commission (MPUC) for a 9.1 percent increase in electric rates, or about $55.1 million per year, with an interim rate increase of 8 percent. In February 2017, Minnesota Power reduced its rate increase request to 6.1 percent, or about $39 million, because of higher-than-expected electricity sales to industrial customers. At the same time, Minnesota Power asked that the interim rate increase that went into effect in January 2017 be lowered from 5.6 percent to 5.1 percent.
The MPUC on May 29, 2018, issued an updated final order increasing rates by $12 million, or a 1.8 percent average increase, with the allowed percent increase varying by customer class. For the average residential customer, the result is a $2 reduction on monthly bills, while most other classes of customers will see modest increases.
We have put into effect changes to energy rates for most customers, demand rates for larger commercial and industrial customers, and monthly service charges for some customers. For most customers the biggest change will be higher energy and demand rates because some previously separate billing charges are now part of the demand and energy rates. The increased demand and energy rates will be offset by a decrease in the fuel costs included in the resource adjustment line and decreases to the amounts in other separate charges, resulting in a moderate overall increase for non-residential customers.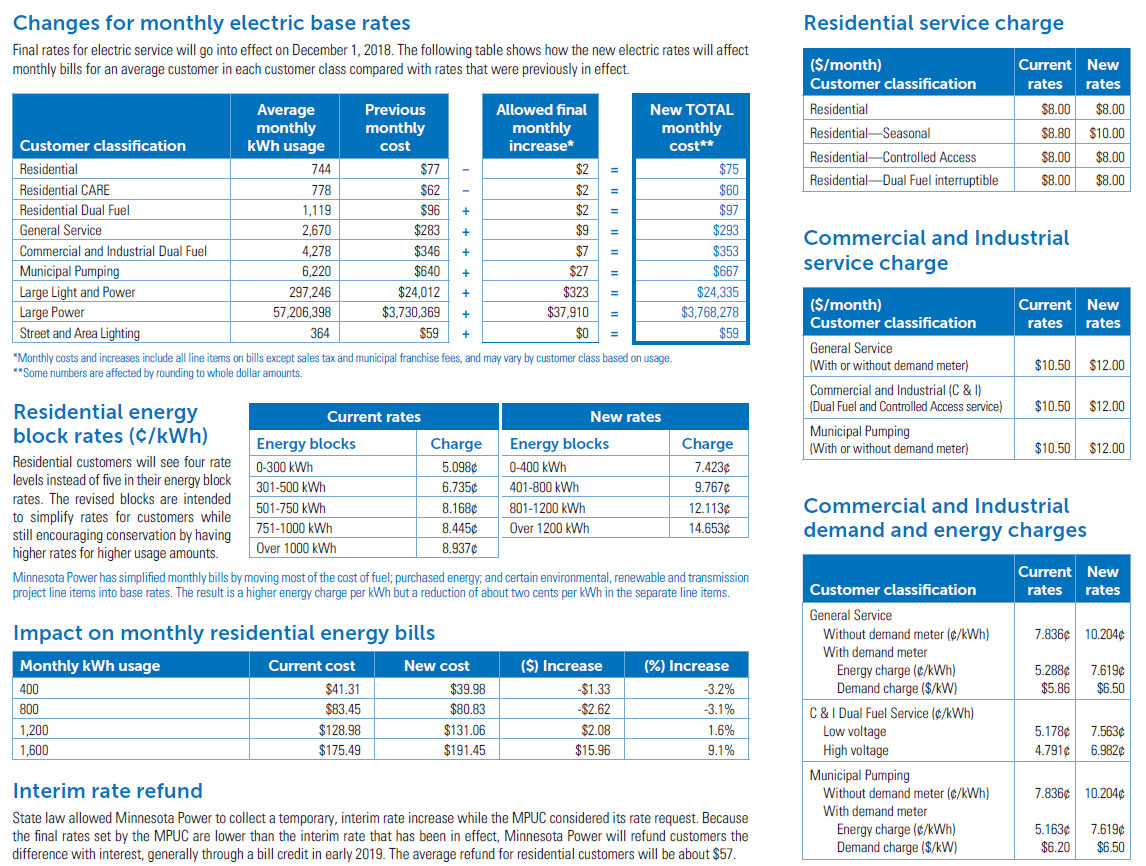 NOTE: Customers classified as Controlled Access will see a final monthly increase of about $2 (based on 744 kWh usage).
Minnesota Power 2018 final rate implementation: FAQs
---
For more information
Minnesota Power's electric rates
Visit www.mnpower.com/CustomerService/Rates or call 800-228-4966 or 218-722-2625.
Minnesota Power's rate review
Visit the Minnesota Public Utilities Commission's website at www.mn.gov/puc. Select eDockets, then type 16 in the year field, enter 664 in the number field, select Search, and the list of documents will appear on the next page.
Questions about the Minnesota Public Utilities Commission's review process?
Consumer Affairs Office
121 7th Place East, Suite 350
St. Paul, MN 55101
651-296-0406 or 800-657-3782
Email: consumer.puc@state.mn.us
Customers with hearing or speech disabilities may call the MPUC through their preferred Telecommunications Relay Service.