On-Peak & Off-Peak
Under our Time-of-Day Rate, you have the potential to save money by shifting your electricity usage from on-peak hours to off-peak hours. Usage during off-peak hours will receive a discounted rate and energy used during on-peak hours will cost more. Your effort to reduce electricity usage during on-peak times allows Minnesota Power to ultimately pass our cost savings on to you.

Off-Peak hours are Monday-Friday from 10 p.m. to 8 a.m., and all day on weekends and holidays (New Year's Day, Memorial Day, Independence Day, Labor Day, Thanksgiving Day, and Christmas Day). The standard electric rate will be discounted by $0.0299 per kWh.
On-Peak hours are the hours that electricity use is typically the highest- Monday-Friday from 8 a.m. to 10 p.m. During those hours, the standard rate will be increased by $0.04870 per kWh.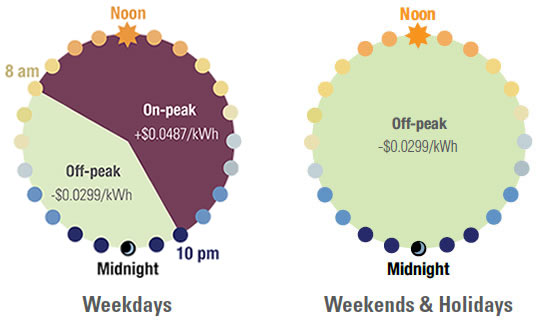 Check it out: During a typical week, 98 hours are off-peak and only 70 hours are on-peak. This means about 60% of the hours during the 12 month pilot will be off-peak hours.

Click here for information about Critical Peak Pricing.

---