Going further. Moving faster.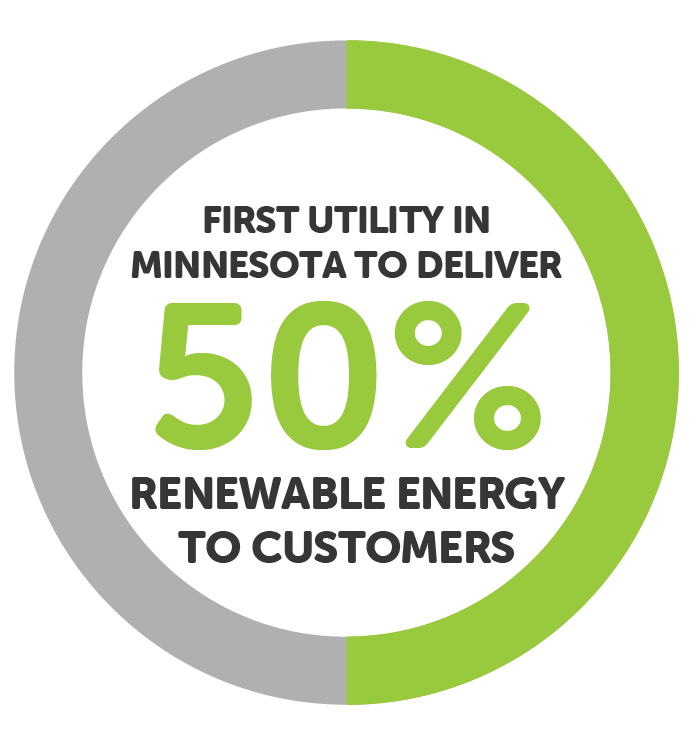 We're moving EnergyForward further and faster, with a higher percentage of renewable energy in our mix than any other Minnesota utility.
Under our EnergyForward strategy, we expect to be at 50 percent renewable energy by 2021—up from about 30 percent renewable today. While we're delivering increasingly clean energy to our customers, EnergyForward also is about delivering safe, reliable and affordable energy across a smarter grid that is more resilient than ever before. We're also helping our customers understand, manage and reduce their energy use.
5 things you should know:
1
We're adding cleaner sources of energy
2
We deliver safe and reliable electricity
3
We keep costs down and help customers save
4
We're reducing emissions


5
We rely on a balanced energy mix
We're adding cleaner sources of energy
Our next steps in providing safe and reliable energy from increasingly cleaner sources to our customers involve adding more wind, hydro and solar, and employ the flexibility of natural gas to ensure power 24/7 for customers.

Our energy mix has changed a lot in recent years and continues to evolve. It already includes:

But we can't rely on these renewable sources of energy to be available all the time. Sometimes the wind doesn't blow and the sun doesn't shine. That's when natural gas, an economical, abundant and flexible energy source with less carbon dioxide emissions, can fill the gap and help keep the lights on. We're partnering with Dairyland Power Cooperative to build a natural gas-fired power plant in Superior, Wisconsin.

We deliver safe and reliable electricity
Our transmission and distribution network safely and reliably delivers electricity from where it's generated to where it's used by customers.

In addition, new technologies such as smart meters deliver the benefits of the smart grid and give customers more convenient ways to manage their energy use and costs.
We keep costs down and help customers save more
Competitive and stable energy costs for residents and businesses help keep the region's economy healthy. EnergyForward is a vital piece of the changing energy landscape and provides least-cost power supply to our customers.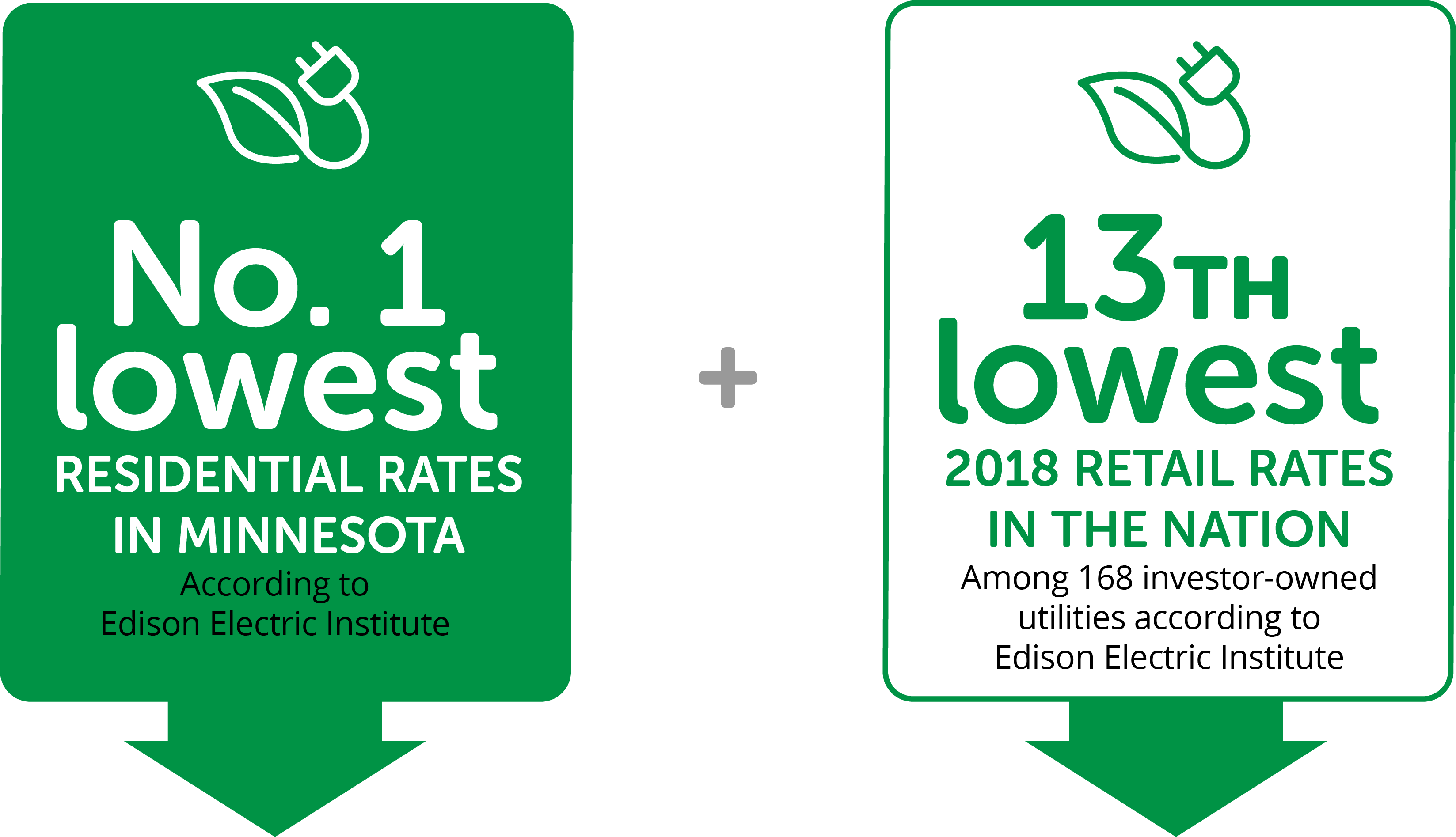 Our energy efficiency and conservation programs provide homeowners, businesses and communities with tools for saving energy. We plan to offer additional options and ideas to help customers be even more energy efficient.
We have exceeded state energy conservation goals for nine consecutive years, and in 2018 saved more than 72,479,000 kilowatt-hours. That's equivalent to:

We're reducing emissions and increasing efficiency
Boswell Energy Center provides a big portion of the electricity our customers need. To keep them running, we had to meet requirements of the Minnesota Mercury Emission Reduction Act and the federal Mercury Air Toxics Standards Rule. That meant installing new emissions-control technology.
The more than $300 million investment at Boswell 4 followed a similar emissions-control project at Boswell 3.
We're also using biomass to reduce emissions at Hibbard Renewable Energy Center to generate steam for a nearby paper customer.

Minnesota has set a goal of reducing statewide carbon dioxide emissions 30 percent by 2025 compared to 2005 levels.
We expect to: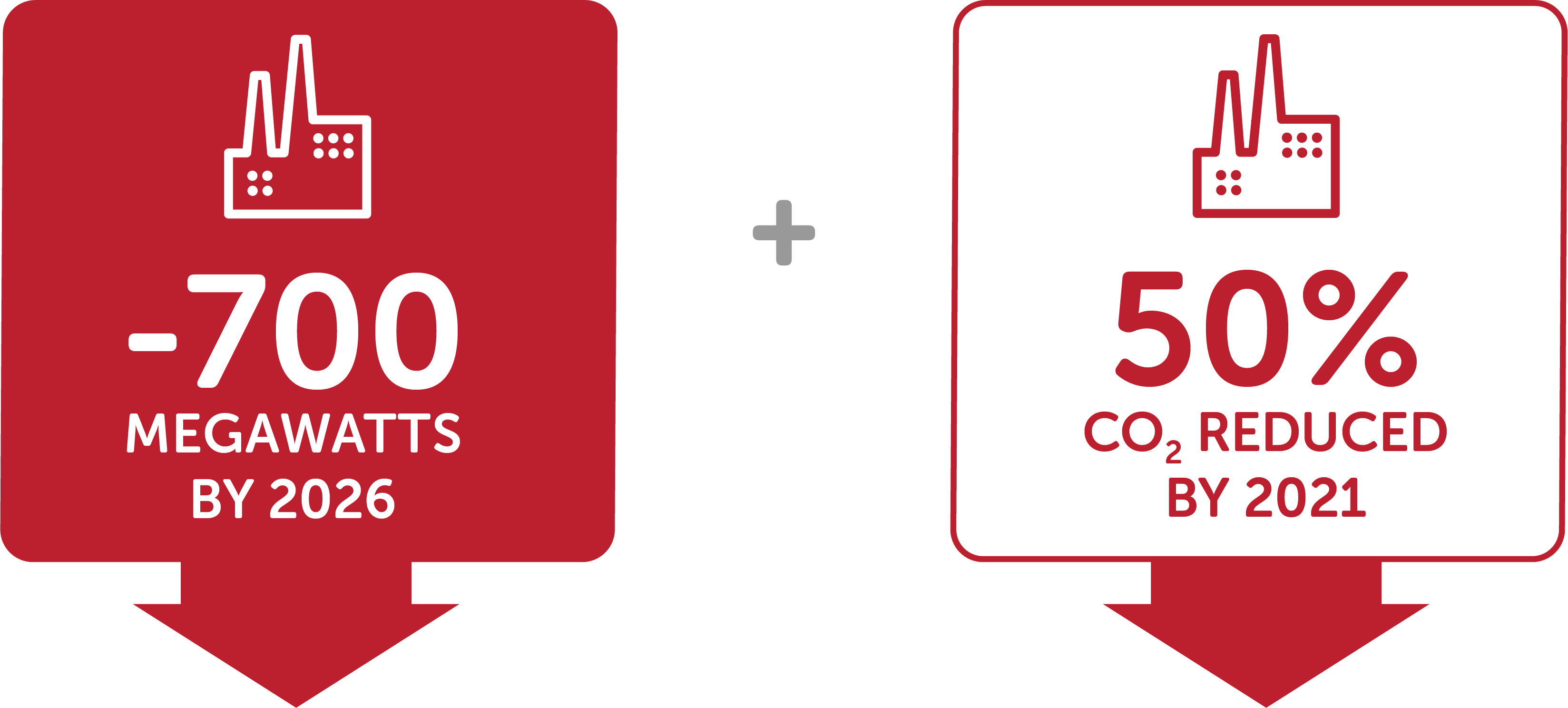 We rely on a balanced energy mix
While we're moving toward a more diverse energy supply, we also need to be realistic about how we provide power 24/7 to keep the lights on, businesses running and communities thriving. Using a balanced mix of renewable fuels, renewable-enabling natural gas and baseload coal to generate electricity ensures customers will have the power they need, when they need it, at a reasonable cost.