What to do if the Lights Go Out
Some of the most severe weather in this part of the country occurs during early and late winter. Minnesota Power's electric system is designed to withstand harsh weather, but damaging storms with ice conditions and high winds can cause outages.
Report an Outage
If you should experience an interruption in electric service, here's what you can do to help us get your lights back on as soon as possible.
Call Minnesota Power's LIGHTS-OUT phone number, 1-800-30-POWER (same as 1-800-307-6937) right away to report an outage.
You can also click here to report an outage online
Please remember, phones that require a connection to an electric outlet, such as a portable phone, will probably not work during an outage. Phones that are hard-wired to telephone company circuits should continue to work. Cell phones will work as long as the battery lasts. Your call will reach an automated reporting service that will recognize the phone number and the location from which you are calling. Your phone call notifies a service representative that you are without power. You can be assured that line crews will be working to restore power in your area right away. If you are calling from a location other than that of the outage, please follow the outage reporting instructions on the phone recording. Our automated outage service only works with touch-tone phones.
CAUTION! If you intend to use a standby generator, be sure it is isolated from electric lines feeding into your home. During an outage, the electric energy from the generator could back feed into the power line and seriously injure or kill a line worker trying to restore your power.
What to do when your power goes out
First, do not touch or go near any downed power lines. Always assume they are energized, and keep children and pets away from them. Contact with downed lines can lead to serious injuries or death.
Go to our online outage map. If there is an icon on the map near your address, click on it to confirm whether there is an outage in your neighborhood. You can zoom in on your location to get a better view.
Check on whether your neighbors have power. The outage could be a larger issue not yet showing on the outage map, or it could be isolated to your house.
If there isn't an outage affecting your neighborhood, check your circuit panel or fuse box for a tripped breaker or blown fuse. Reset the breaker or replace the fuse if needed.
Check your mast or the disconnect outside below your meter base (see diagram below).
Call us at (800) 30POWER (800-307-6937) or go to our outage web page to report the outage if you don't see any obvious problems in your home or on your mast and meter. The following information can help us:

Your address
Are your lights dim or completely out?
Are your neighbors' lights out?
Do you see damage, like a tree in a power line or a broken power pole?
Did you see or hear a flash, fire or pop?

Turn off appliances (except refrigerators and freezers), computers, TVs, air conditioning and heating units (major appliances can be turned off at the breaker box), and all lights except for two (see below) to let you know the power is back on. When power is restored, turn items on one at a time. Heavy instant demand when we're trying to restore power can cause a secondary outage. For tips on food safety, see the USDA website.
Turn on a porch light and one inside light so you and our crews will know when your service is restored.
If your neighbors' power comes back on but yours does not, please call us again and let us know. The problem may be isolated to your house.
If you use a generator, please follow the instructions carefully. Improperly connected generators can be dangerous for our crews.
If someone in your household is using electrically powered medical equipment, we are able to prioritize returning power to your address if you've contacted us before the outage occurs. Learn more here.
After an outage
Once your power has been restored, please follow these tips:
Turn electrical appliances on gradually. An immediate, heavy demand for electricity after a power outage may overload and damage equipment, causing another outage.
Let our crews trim and remove trees and branches in the utility right-of-way to the extent necessary to restore electrical service.
You will be responsible for removing and disposing of any fallen limbs and trees and other debris on your property caused by storm damage.
We may require repairs to damaged service equipment before power can be safely restored. You are responsible for damaged electrical service equipment at your home or business. Only a licensed electrical contractor should attempt to work on these parts of your electrical system. An electrical permit may be required.
Minnesota Power installs and maintains:
Power transmission and distribution lines, poles, transformers and power lines within our rights of way.
The power service wire carrying electricity from our lines to the mast on your home or business (trees or shrubs near this wire on your property should be maintained by you).
You are responsible for these components:
The mast, strike plate and meter socket to your home or business (identified in the diagram).
If electricity comes to your house through overhead power lines and your house is out of power, the problem could be your mast. Sometimes strong winds or tree branches can pull the mast away from the house.
The mast, which is outside your home (either on your roof or at your meter) usually looks like a metal pipe. DO NOT TOUCH the mast. It is energized. If it looks loose, bent or damaged, you will need to contact an electrical contractor to get it fixed. The mast is part of your home and is your responsibility. Minnesota Power cannot restore power to your home until your mast is fixed.
Be prepared
Keep at least one flashlight, a battery-powered radio and extra batteries in an accessible place.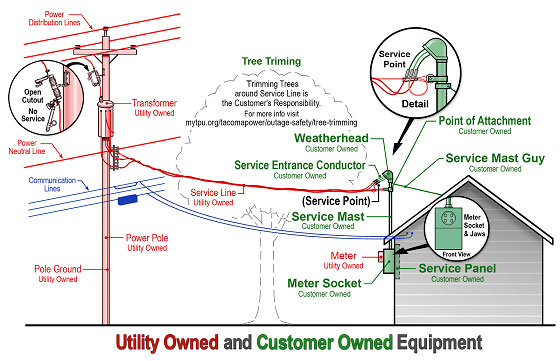 ---
Please Remember: While Minnesota Power crews work diligently and safely during a power outage, please have patience. Your service will be restored as quickly as possible.
If this is an emergency, call 911 immediately.
Having trouble with outage reporting on the web? We are ready for your call 24 hours a day, seven days a week at 1-800-30-POWER (307-6937).