Drain Water Heat Recovery (DWHR)
DWHR Rebate | Why DWHR? | Frequently Asked Questions
Water heating is one of the largest energy expenses in the home, accounting for about 15–25% of residential energy costs. Yet, 90% of that heat goes right down the drain, costing you energy and money. Drain Water Heat Recovery (DWHR) technology can reduce water heating costs by up to 40%. This electric energy savings in turn translates into a reduction in greenhouse gas emissions by up to one ton per year.
"There are a hundred different ways to spend money trying to save energy, but this is simple and the payback is quick."
– Jay Zierden, Triple E home builder
Installation
The average payback range on a DWHR unit is four to nine years, depending on hot water use in the home, which is based on the number of people in the home and the number of showers taken daily.
Basically, the DWHR unit becomes part of your drainage stack, usually in your basement, by cutting into a vertical section and using the supplied connectors. The coils become part of your fresh water supply line by diverting the water through them. A DWHR unit can be installed with any combination of drainage pipe and fresh water piping (i.e., ABS, PVC, cast iron, copper, PEX, etc.).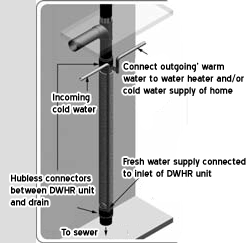 How It Works
DWHR technology works by transferring the heat from warm drain water that comes out of your shower or dishwasher to preheat your incoming cold water. The heat exchanger, which consists of multiple copper tubes coiled around a copper drain pipe, replaces an existing section of vertical drain pipe. As drain water flows down the copper drain pipe, heat is transferred to the cold fresh water flowing through the outer coils. This means that your water heater does not have to work as hard, which saves electricity.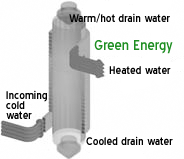 ---
Watch the DWHR Video
---
Watch the enersmart DWHR video for an overview of a Drain Water Heat Recovery system and how it can save your family energy and money.
Other Benefits and Expectations of a DWHR Unit
If the DWHR unit is installed with the most efficient configuration (all of the fresh water in your house passing through the outer coils) you might notice that the cold water at your sink isn't so cold. This is completely normal, and will usually only occur when there is hot water being used in the home. If there is no hot water being used in the home, there will be no change in the fresh water temperature.
Your hot water capacity will be much greater so you will be much less likely to run out of hot water.
A DWHR unit works great in combination with an instantaneous (on demand) water heater. These systems sometimes have difficulty in meeting demand either in the winter or when two showers are running. The DWHR unit can help decrease that demand so the unit can more efficiently meet your water heating needs.
With the multiple coil design of the DWHR units, pressure loss is not an issue, meaning it will not adversely affect the flow of water in your home.
DWHR units are also very safe and practical since they have no moving parts and are double-walled. This means limited maintenance and no chance of having contaminated water.
The only other difference that you'll notice after installing a DWHR unit is the savings on your energy bills.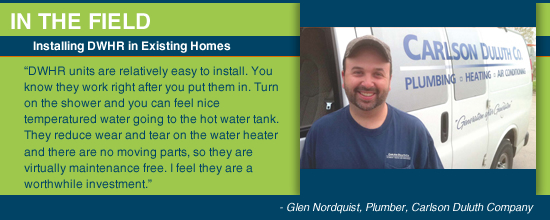 Click here to read the Building Up Newsletter on Drain Water Heat Recovery.
Questions on Energy Conservation?
Residential: 218-355-2843
Business: 218-355-2909
Email: powerofone@mnpower.com