Lighting
Make the Right Choice for Effective Lighting in Your Home
Switching to energy-efficient lighting is a simple way to cut your energy bills. New lighting standards took effect in 2012 and many new bulbs meet the Energy Independence and Security Act of 2007 (EISA 2007) standard requiring bulbs to use 25% less energy. LED bulbs provide a wide range of choices in color and brightness and last much longer than traditional incandescent light bulbs, and using high quality products with ENERGY STAR label can give you the same amount of light for less money. The savings can add up. Upgrading 15 inefficient incandescent bulbs in your home could save you about $50 per year. Since most of the bulbs also have longer life spans, you'll continue to save into the future.
Our goal is to provide you the tools and information to choose the right light for the right location with the right performance in your home. It gets down to three common features that help you choose the right fit: brightness, color (appearance) and application.
Choose the Right Light for the Right Location with the Right Performance
Get the Right Brightness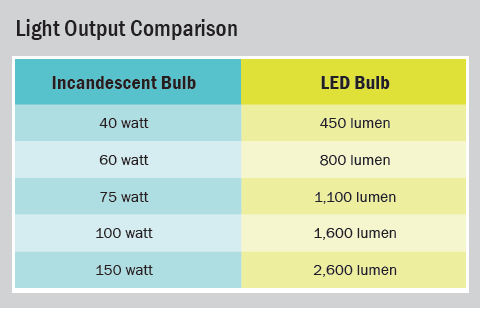 *Compare lumens and wattage equivalents to determine the wattage of LED bulbs to select and ensure you get the brightness you desire.
Get the Right Bulb for the Right Fixture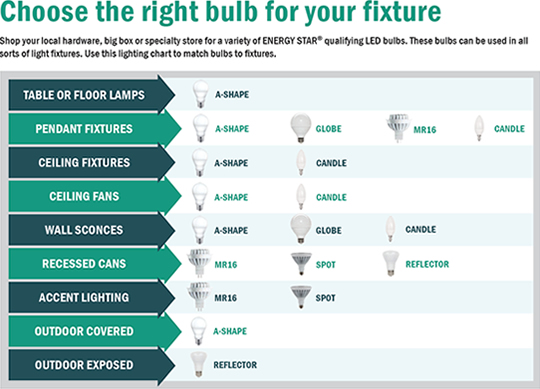 When choosing the right lighting, read the label on the box to ensure it meets your brightness, color and application requirements (enclosed fixture, outdoor use, narrow or wide beam or dimmer control). Also be sure to use ENERGY STAR® approved lighting.
---
Lighting represents 10% of a typical home's energy usage. Take advantage of energy-efficient products, rebates, and tools to save energy and money.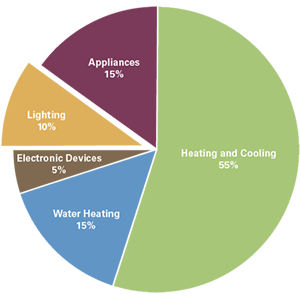 ---
Questions on Energy Conservation?
Residential: 218-355-2843
Business: 218-355-2909
Email: powerofone@mnpower.com