Lighting Rebates & Specials
Rebates on ENERGY STAR® Interior Lighting
Instant and Mail-in options available.
Only $.99!
Look for Greenlite lighting specials at local, independent stores near you!
INSTANT DISCOUNT
Looking for decorative bulbs? Check out the Edison-style filament LED bulbs at Home Depot!
Only $17.98 for a 2 pack of integrated motion sensor bulbs that light automatically when motion is detected!
Crazy deal alert: $19 instant savings when you purchase these 12-pack of LED bulbs at Sam's Club. Discount automatically applied at check out. Hurry! While supplies last!
Minnesota Power rebates on LED lighting end in 2023. Here's what you need to know:
Lighting rebates will be available through the end of 2023 (subject to change).
Federal energy efficiency standards are changing in 2023 with the finalization of new rules around lighting developed in the Energy Independence and Security Act of 2007. This is great news, as it increases the minimum standard.
Because of this, utility rebates on the most common bulbs will no longer be required to incentivize customers to choose the more efficient option – most everything WILL be the efficient option.
This applies to common residential lighting only - rebates will still be available for a variety of commercial lighting applications.
For more details on the rulings, click here.
DON'T WAIT - SHOP NOW
Get instant discounts at participating retailers on eligible ENERGY STAR® LED lighting while you still can! See list of participating retailers, and the sticker to look for in stores, below!
Mail-in Lighting Rebates are also available:
Use our mail-in form to get a rebate on qualifying products:
LED bulbs
Torchieres
Indoor/Outdoor fixtures
Ceiling fan with LED light kit
Forms are available at
participating retailers
or online here:
Mail-in Lighting Rebate Form.
Participating Retailers - Instant In-Store Lighting Discounts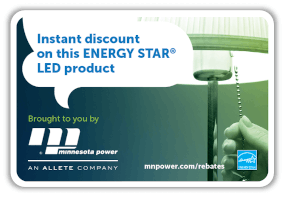 Get instant utility discounts right at the register when you buy qualifying LED lighting products at the participating retailers listed below.

Look for the Minnesota Power labels or ask a store associate for details.
Costco in Duluth, MN
Dollar Tree in Duluth, MN
Dollar Tree in Cloquet, MN
Dollar Tree in International Falls, MN
Home Depot in Duluth, MN
Menards in Duluth, MN
Menards in Hermantown, MN
Menards in International Falls, MN
Sam's Club in Hermantown, MN
Walmart in Hermantown, MN
Walmart in Little Falls, MN
Walmart in Cloquet, MN
APPLY ONLINE!
Click here to apply for your rebate through our easy online form!
Want to know which products qualify? Click the below product category to find out.