Lighting Rebates & Specials
Rebates on ENERGY STAR® Interior Lighting
Instant and Mail-in options available.
$8 off at Sam's Club!
Replace your inefficient indoor floodlights with these ENERGY STAR® bulbs. Only $1.98 after instant rebate.
Only $.99!
Look for Greenlite lighting specials at local, independent stores near you!
Mail-in Lighting Rebates:
Use our mail-in form to get a rebate on qualifying products:
LED bulbs
Torchieres
Indoor/Outdoor fixtures
Ceiling fan with LED light kit
Forms are available at
participating retailers
or online here:
Mail-in Lighting Rebate Form.
Instant In-Store Lighting Discounts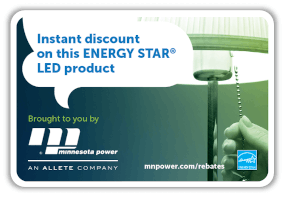 Get instant utility discounts right at the register when you buy qualifying LED lighting products at the participating retailers listed below.

Look for the Minnesota Power labels or ask a store associate for details.
Batteries Plus Bulbs in Hermantown, MN
Dollar Tree in Duluth, MN
Dollar Tree in Cloquet, MN
Dollar Tree in International, MN
Home Depot in Duluth, MN
Menards in Duluth, MN
Menards in Hermantown, MN
Menards in International Falls, MN
Sam's Club in Hermantown, MN
Walmart in Hermantown, MN
Walmart in Little Falls, MN
Walmart in Cloquet, MN
APPLY ONLINE!
Click here to apply for your rebate through our easy online form!
Want to know which products qualify? Click the below product category to find out.