Heating & Cooling
Conservation: Where Do You Begin?
In most homes, the first place to start in getting the most for your energy dollar is your heating and cooling system. As "Breakdown of Energy Consumption in Homes" pie chart below indicates, heating and cooling a home represents 45–55% of your home's energy usage and thus energy costs. It also impacts the comfort, performance, and durability of your home.
Heating and cooling represents 55% of a typical home's energy usage. Take advantage of energy-efficient products, rebates, and tools to save energy and money.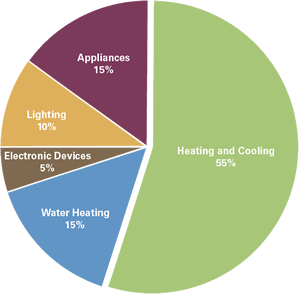 What more can I do to get the most out of my heating and cooling system?
Develop an Action Plan to get the most for your energy dollar.
Insulate and air seal to stop air leaks and bypasses in your home.
Change the filter on your furnace regularly.
Tune up your furnace or heat pump regularly.
Check out our Heating and Cooling guide and learn how to increase the comfort and reliability of your heating system while saving energy and money.
---