Incentive Package
Participating Contractors | Participating Utilities
Available January 1–December 31, 2020
Building New?
View Triple E with GSHP special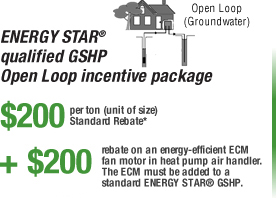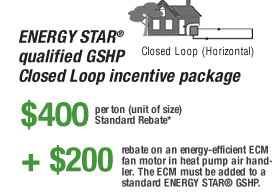 Requirements to Participate
The heat pump must be installed in homes of Minnesota Power residential customers or customers of another participating utility on or before December 31, 2020. Note: This rebate offer only applies to new GSHP installations.
The heat pump must meet (current) ENERGY STAR® standards.
The heat pump must meet Minnesota Power's requirements to qualify for this incentive package. Note: We do not rebate GSHPs installed in homes with existing natural gas or propane/oil heating due to fuel switching considerations with other utilities offering energy conservation programs.
How do I take advantage of the Incentive Package?
Work with a program participating contractor.
Your contractor will properly install the GSHP based on your expectations and explain how to operate and maintain it for optimum performance beyond energy savings. Remember to ask for the rebate on the ECM Fan Motor.
Your contractor will complete all the required paperwork to qualify you for the standard rebate and applicable $200 ECM Fan Motor rebate. Please allow 6–8 weeks for your rebate.
What to Look for When Considering a GSHP
Ground Source Heat Pumps are complex systems and consumers should look for certain credentials before hiring a GSHP contractor. Consumers should take the following steps before deciding on a GSHP contractor:
Check the status of or verify the contractor's state mechanical bond. Both Minnesota and Wisconsin require, by law, that all mechanical contractors carry a current and valid state bond certificate. This protects you by providing a path for action if your contractor does not hold up their end of the deal. You can do a search for Minnesota at: https://secure.doli.state.mn.us/lookup/licensing.aspx and Wisconsin at: https://app.wi.gov//licensesearch.
Verify IGSHPA accreditation. The International Ground Source Heat Pump Association (IGSHPA) is the highly recognized research training arm of the geothermal industry. Continuing education credits (CEUs) must be fulfilled to renew accreditation and membership every 3 years. For more information on IGSHPA accreditation, click here. This list of IGSHPA accredited contractors will be reviewed annually.
Look for contractors that are members of the Minnesota Geothermal Heat Pump Association (MNGHPA). Members of this association must also be members of IGSHPA.
Search consumer advocacy organization websites such as the Better Business Bureau.
Ask for referrals — Ask friends, neighbors, and co-workers for contractor referrals. You can also contact local trade organizations for names of members in your area.
Call references — Ask contractors for customer references and call them. Ask about the contractor's installation or service performance, and if the job was completed on time and within budget.
For questions about the status of your rebate, call 1-800-677-8423 (option 2).
---
* Minnesota Power and participating municipal utilities, by providing these rebates, do not warrant the equipment or the work of the contractor and are not responsible for any personal injury or damage caused by the equipment. The sponsoring utilities reserve the right to withdraw the offer without notice. Rebate subject to homeowners working with a participating contractor and to contractor meeting performance standards. The contractor will file the rebate for you.
Questions on Energy Conservation?
Residential: 218-355-2843
Business: 218-355-2909
Email: powerofone@mnpower.com