Heat Pump Water Heater Rebate
$400 Rebate on ENERGY STAR® Certified* Heat Pump Water Heater
Available on purchases made Jan. 1 – Dec. 31, 2023
*Must be replacing an electric water heater or installing in new construction
Water Heater Rebate Form | Participating Water Heater Retailers | Participating Utilities
3 Ways to Receive Your $400 Rebate on a Heat Pump Water Heater:
APPLY ONLINE!
Click here to apply for your rebate through our easy online form!
MAIL IN A PAPER COPY!
Complete a paper rebate form (download here) and mail it to the address on the form.
SHOP IN PERSON!
Pick up a paper rebate form at a participating retailer while shopping for an eligible heat pump water heater in person.
Don't forget to request your free energy and water-saving Water Savings Kit on the rebate form or ask your plumber to submit the request.
Important Notes:
You must be a customer of a participating utility.
Include a copy of the sales receipt on the rebate form.
Expect your rebate check in 8–10 weeks.
For questions about the status of your rebate, please call 1-855-669-8196.
Benefits of Heat Pump Water Heaters
Because these water heaters aren't creating heat, but moving it, they can be two to three times more energy efficient than conventional electric resistance water heaters
Although more expensive to purchase than a conventional electric water heater, they provide significant savings over time. The savings will pay back the difference in upfront costs typically in 2-5 years
Heat pump water heaters can reduce your electric water heating costs by more than 50%
Quiet operation
For even more information on what to consider when purchasing a heat pump water heater, visit the ENERGY STAR® Heat Pump Water Heater Web page.
How Does It Work
Heat pump water heaters use electricity to remove heat from the surrounding air and transfer it to the water in the tank. The concept of moving heat rather than creating it can be realized in other recognizable technologies like refrigerators and geothermal systems (Ground Source Heat Pumps).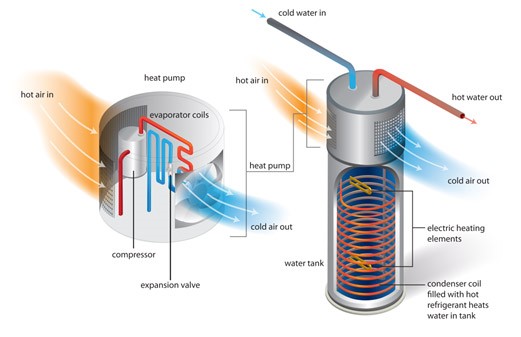 As HPWHs remove heat from the air, they also provide dehumidification to the surrounding area. These systems would be ideal for moist areas that could benefit from moisture being removed from the air. Additional ideal locations would be laundry rooms or mechanical rooms that tend to produce unneeded heat.
* Minnesota Power and participating municipal utilities, by providing this rebate, do not warrant the equipment or the work of the plumber and are not responsible for any personal injury or damage caused by the equipment. The sponsoring utilities reserve the right to withdraw the offer without notice. Rebate is subject to contractor meeting performance standards.