Water Heating
Start Reaping the Benefits of Saving Water and Energy Today
Make conserving valuable water and energy a priority through choices you make every day as well as investments in efficient, "right fit" appliances for your home. Your decisions can benefit your family and community today and the world for generations to come.
Did You Know
Household water leaks can waste as much as 200 gallons of water a day.
Every 10°F reduction in water temperature reduces water heating costs by 3%–5%.
An ENERGY STAR® certified clothes washer can save you up to 17 gallons of water with each load.
You can reduce your water usage by installing low-flow showerheads and faucet aerators. Order a free Water Savings Kit from Minnesota Power if you have an electric water heater.
For more information on water- and energy-saving opportunities, visit the EPA's WaterSense® Program.
Water heating represents 15% of a typical home's energy usage. Take advantage of energy-efficient products, rebates, and tools to save energy and money.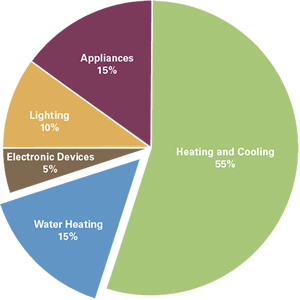 Saving Water and Energy Resources
---